The George Williams Memorial Room, located in the Beasley Campus Center at GWC, is an exact replica of the room where the Young Men's Christian Association was originally organized in London, England, and is hoped to be an inspiration to future generations.
The original room at 72 St. Paul's Churchyard in London was preserved as an international shrine until destroyed in 1944 by a World War II bombing.
The present memorial duplicates the unevenness of the floor and ceiling, the door and window sag, the varied paneling, the stencil design, and the pattern of the fireplace in the original room. Duplicates of the original furniture, the room furnishings, including the table, chairs, and fireplace grating were custom built in England.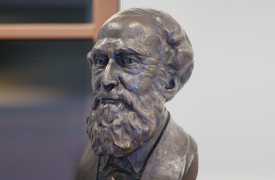 History
During the Industrial Revolution in England, George Williams, a young drapery clerk, recognized London as a large, overgrown town unable to meet the physical, social, intellectual and spiritual needs of its citizens. London was ripe for reform.

Williams had the idea of establishing a "Young Men's Society" which would introduce religious services into every large business establishment in London. On June 6, 1844, twelve young men met in the original George Williams Room for the purpose of forming a society to influence religious young men to spread the Redeemer's Kingdom among others.
The society, later named "The Young Men's Christian Association," developed into an international service institution. George Williams dedicated his life to the YMCA, and he retained a place of active leadership until his death. In 1894, Queen Victoria knighted Williams for "his humanistic contributions to the furtherance of world brotherhood."  On November 15, 1905, he was laid to rest in St. Paul's Cathedral, an honor reserved for England's heroes.
As of 2012, the YMCA has 58 million beneficiaries from 125 national associations.