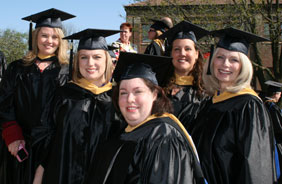 These requirements will apply to students enrolling at AU in the 2017-2018 academic year. Current students can find the requirements that apply to them by consulting the relevant academic catalog.
The M.S.W. curriculum is comprised of courses that constitute 60 semester credit hours of study. The first 30 semester hours of study in the M.S.W. program introduces the student to the area of generalist social work practice. The remaining 30 semester hours focus on clinical practice.
The M.S.W. program at George Williams College offers three program completion options: full-time, part-time and advanced standing. The full-time program is completed in two years. Part-time students typically complete the program in three years, and students with advanced standing may select to complete the program full-time in one year, or part-time in two years.
Traditional full-time students complete course work during fall, spring and summer semesters (Tuesday and Thursday evenings). Full-time students with advanced standing complete courses during the day, attending classes two days per week. Course work is completed in fall and spring semesters. Part-time students complete courses on weekends during the fall, spring and summer semesters (Friday evening and Saturday morning).
MSW degree options
M.S.W. program requirements
Prerequisites
Statistics (complete a basic statistics course with a grade of "C" or better prior to enrollment in the M.S.W. program)
Completion of mandatory orientation
Foundation curriculum (30 semester hours)
Social welfare (3 semester hours)
     SWK6140 Social Welfare Policy and Institutions
Human behavior and social environment (6 semester hours)
     SWK6150 HBSE I: Theories of Human Development: Infancy to Adolescence
     SWK6160 HBSE II: Theories of Human Development: Adult Lifespan
Social work practice theory and methods (15 semester hours)
     SWK6370 Social Work Practice I: Individuals and Families
     SWK6381 Social Work Practice II: Group Work
     SWK6382 Social Work Practice II: Community Practice
     SWK6390 Social Work Practice with Diverse & Vulnerable Populations
     SWK6500 Social Work Perspectives on Psychopathology
Research (3 semester hours)
     SWK6250 Research I: SW Research Methods
Field instruction (6 semester hours)
     SWK6730 Field Instruction I: Beginning Internship
     SWK6740 Field Instruction II: Beginning Internship
Concentration curriculum (30 semester hours)
Social work practice and policy (9 semester hours)
     SWK 6533: Advanced Macro Practice
    AND
     SWK6511 Social Work Practice III: Clinical Theory & Methods
     SWK6521 Social Work Practice IV: Clinical Adv. Clinical Knowledge & Application
     OR
     SWK6512 Social Work Practice III: Leadership & Community Practice Theory & Methods
     SWK6522 Social Work Practice IV: Leadership & Community Practice Knowledge & Application
Research (3 semester hours)
     SWK6283 Practice & Program Evaluation
Social work electives (9 semester hours)
Advanced field instruction (6 semester hours)
SWK6750 Field Instruction III: Advanced Internship
SWK6760 Field Instruction IV: Advanced Internship
Total required to graduate: 60 semester hours

Specializations (optional)


Advanced Clinical Social Work
This new graduate advanced clinical social work specialization will prepare the advanced MSW student to do clinical practice in psychotherapy settings such as mental health agencies, family service agencies, youth programs, community-based clinical agencies and private practice.
The specialization will consist of three required courses:
a foundational course on the basics of the advanced clinical social work therapeutic relationship and two free electives in clinical practice. This specialization will include advanced MSW field placement in a clinical social work setting.
Health Care (Gerontology)
The health care specialization exposes students to the rapidly growing and ever changing field of health care in the United States, and the myriad roles of social workers in the light of health care reform. One core course with two related electives and a health care specific internship provides students with the basic understanding of the medical field and its terminology, the complexities of brief and chronic illness and respective treatments, ethical considerations, insurance issues and public policy, all of which affect today's consumers. The MSW graduate will be able to recognize present health care disparities and work towards the equitable and fair provision of services to all populations. Required work includes core course 6010 Medical SWK with both gerontology courses and the gerontology-specific internship.

School Social Work
Before acceptance into the specialization, students must successfully pass the IL Test of Academic Proficiency (400) or obtain an Illinois State Board of Education waiver received by July 1, prior to advanced coursework and school social work internship. Students must also pass the IL School Social Work Exam (184) prior to the end of their first semester of SWK 6410. Please note that the school social work specialization must begin in August and ends at the conclusion of school placement in late May or early June.