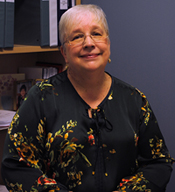 Associate Professor (Emeritus)
School of Nursing
Office Location: Alumni Hall 218
Telephone: 630-844-5133
E-mail Address: mlocklin@aurora.edu
Teaching is my passion. I enjoy the challenge of being able to respectfully guide the learner by providing meaningful context to whatever is being taught. I seek high expectations but work to provide appropriate and realistic goals for the students to achieve. I also try to provide relevant and useful feedback to each student throughout the semester. I want to be an influencing force in the students' achievement of course and program outcomes.
Education
PhD in Nursing, Rush University College of Nursing, Chicago
Master of Science in Nursing, Rush University College of Nursing, Chicago
Bachelor of Science in Nursing, Elmhurst College, Elmhurst, IL
Areas of Specialization
Health Care Ethics
Nursing Research
Curriculum Development
Maternal/Child Health Nursing
Courses Taught
Ethical Principles and Global Social Considerations (NUR 5120)
Scientific Inquiry and Research (NUR 5130)
Curriculum Development and Assessment (NUR 6181)
Practicum: Advanced Clinical Practice Role (NUR 6160)
Practicum: Professional Role Concentration (NUR 6210)
Master's Thesis or Research Project (NUR 6300)
Highlights of Publications, Honors and Professional Contributions
Received the 2012 Live United Award from the Fox Valley United Way Organization. The award was given for creating opportunities and inspiring hope for a better tomorrow by serving as chair of the Success By Six Committee from 2009 through 2011.
Received the 2008 Excellence in Teaching Award from the Nursing Spectrum.
Received the 2006 Tony Olejnik Leadership Award from Aurora University.
Authored or Principle Author of 10 peer-reviewed professional journal articles.
Campus Involvement
Chair of the School of Nursing Program Assessment Committee
Member, College of Professional Studies
Member, School of Nursing Faculty Committee
Member, School of Nursing Graduate Committee