George Williams College of Aurora University has two webcams available for viewing.
View the George Williams College Pier and Lakefront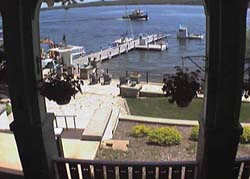 Located in Williams Bay, Wisconsin, on the shores of Geneva Lake, our campus is home to beautiful views year round. Our webcam provides a stunning view overlooking Geneva Lake from the Weidensall Administration Building.
The Ferro Pavilion is home to the annual GWC spring commencement ceremony and summer festival Music by the Lake. Every summer, thousands of visitors experience events from family programming to jazz to classic rock entertainment.
Please note: If you are using Microsoft Internet Explorer as your browser, you may need to install AXIS Media Control to enable streaming video in IE. If prompted to install AXIS Media and/or Active X, you must answer yes to allow installation and install the plug-in before being able to view the webcam. The camera is incompatible with Internet Explorer 11 at this time. Please use another browser if you're using IE 11.